Using the Keller Funnel®2 to Help Avoid Capsular Contracture in Breast Augmentation Surgery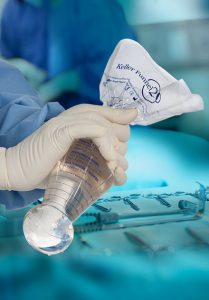 The most vexing problem in breast augmentation surgery is the post-surgery occurrence of capsular contracture or scar tissue compressing on the implant. There have been many theories as to why this occurs. The most agreed upon explanation is a phenomenon called biofilm. Biofilm occurs when certain strains of bacteria start to colonize and produce a protective film to avoid the body's immune system from fighting them off. Where does the bacteria come from? How does it get introduced in the patient's breast implant pocket? Every one of us has bacteria that lives on our skin and in our bodies. Women have bacteria that live inside the milk ducts of their breasts. The most likely source of contamination during the procedure is from these two sites, skin and milk ducts.
The Keller Funnel®2
How do we minimize the chances of contamination, thus decreasing the risk of future capsular contracture? By using an insertion sleeve, like a flexible funnel called the Keller Funnel®2, silicone implants can be inserted into the surgically created pocket without touching the skin or the breast gland on the way in. It is that simple. With a no touch technique, the implant is loaded into the funnel. The narrow end is inserted through the incision into the pocket; then the implant is propelled into the pocket by using pressure on the funnel. Imagine a baker decorating icing on a cake and squeezing the frosting through a similar tube.
Another added benefit to using the Keller Funnel®2 is that it is sometimes possible to make shorter incisions since the implant does not need to be stuffed into the pocket with the surgeon's fingers.
Dr. Stevens adheres to the recommended steps to prevent capsular contracture. If you are thinking about breast augmentation and/or are worried about capsular contracture, call 310.556.1003 or contact us online to request your personal consultation with Dr. Leslie H. Stevens today.