The New Face of Anti-Aging: Chin Enhancement Surgery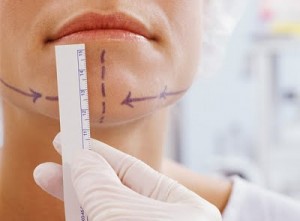 Many patients seeking a more defined and youthful-looking chin can be met with challenges in achieving their goals when diet, exercise and even a sporty new haircut fail to get the job done. A well-balanced, chiseled and prominent chin has been associated with more authority, self-confidence and even trustworthiness. With associations like that, it's no wonder that chin enhancement surgery has increasedsignificantly over the past year beating out the more popular cosmetic surgery procedures last year which included breast augmentation, liposuction and even Botox.
This growing trend in facial procedures that assist in turning back the hands of time has spelled great news for baby boomers and mature patients seeking to stay competitive in the job market.
Dr. Stevens breaks down the details chin enhancements for patients considering the benefits of having this this popular procedure.
How the procedure works
Chin enhancement surgery is typically performed in a surgeon's office, a hospital or an outpatient clinic and lasts between one and three hours.
An implant is placed into the chin pocket-area after the surgeon has made an incision inside the mouth or under the chin.
The surgeon may use a silicone implant, bone or fat tissue to create the implant.
The implant is then attached to the bone with sutures or screws.
If the surgery is performed inside of the mouth, there will not be any visible scars.
Recovering after surgery
Swelling will occur in the first few weeks after surgery.
Exercise and other strenuous activity will be limited for about one month.
Patients are able to go back to work and resume normal activity after a few days.
Chin implant surgery is reversible.
Complications can include infection (less than 7%), numbness and bleeding.
Considering the surgery
Male and female patients alike between the ages of 40 and 54 outnumbered the amount of chin enhancement procedures done in 2011. According to an article on CBSNEWS.com a manager at a software company underwent a chin implant procedure after seeing her double-chin on lots of client video chats. Whether a patient wants to eliminate a double chin or simply enhance their appearance for a photo-ready look, chin enhancement surgery can increase the strength of a patient's profile and improve perceived  leadership characteristics.
If you're a patient considering a chin enhancement procedure, schedule a consultation with Dr. Stevens to learn more.
Dr. Leslie H. Stevens is a board certified plastic surgeon in Beverly Hills and co-director of the renowned Lasky Clinic, known for its extensive celebrity clientele.  Dr. Stevens specializes in facelifts, eye lifts, breast augmentation, tummy tucks, labiaplasty, liposuction and body contouring.  His practice is located in the Los Angeles area at the Lasky Clinic in Beverly Hills.