3 Important Benefits of Mother and Daughter Plastic Surgery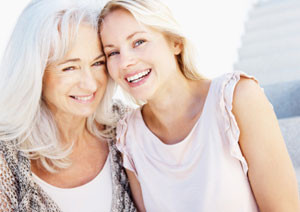 Plastic surgery could be one of the world's oldest aesthetic healing methods. Facial injuries were treated more than 4,000 years ago, and physicians in India were performing reconstructive skin grafts and flaps in 800 B.C. Today's plastic surgery methods carry on this human tradition of self-improvement by maintaining pleasing form and function. Modern plastic surgery methods have evolved, trends have come and gone, but one that is developing now is mother-daughter plastic surgery.
In this scenario, mothers and daughters share a consulting visit with a board- certified plastic surgeon, and, if surgery for both is deemed safe and indicated, then they support one another through the healing process. Mother-daughter plastic surgery can be a positive decision for both parties involved.
Benefits of Mother-Daughter Plastic Surgery
While some may look at this growing trend with a cautious eye, mother-daughter plastic surgery offers several specific benefits:
You get moral support from someone you already love and trust.
While the procedures for mothers and daughters may be different, the shared experience of surgery can bring them closer.
Mothers and daughters can cheer each other on as they heal from surgical procedures.
They can offer post-surgical moral support to each other gained from a shared experience.
The Calming Effect of Mother-Daughter Plastic Surgery
The bond between mothers and their daughters is historically a strong one. When you share an experience with either your mother or your daughter, someone you know well and are close to, the fear of surgery can be diminished.
Even minor surgical procedures performed in a physician's office can induce anxiety. But just having someone you love and trust with you during the procedure can offer comfort.
Now, if that same person is undergoing the same or a similar surgical procedure, you not only have the comforting presence of that other person to lean on, but you naturally develop a stronger personal bond with that person due to a shared experience.
Psychological tests through the years have shown that shared experiences definitively draw people closer, even strangers, by giving them a common bond, a common experience.
If you undergo mother-daughter plastic surgery, you are turning what could be a frightening experience into something less intimidating, because it is shared with someone you love and trust.
Post-Recovery Personal Support After Mother-Daughter Surgery
Obviously, before any surgical procedure on either you or your loved one, be it your mother or your daughter, you both underwent a thorough consultation with a certified plastic surgeon. You probably discussed these topics:
Your reasons for having plastic surgery
Your hopes for the outcome of your plastic surgery procedure
Your medical history
The prognosis for success of your plastic surgery procedure
However, after a plastic surgical procedure, it is just as important to receive post-surgical support as you heal and begin to enjoy the surgery's effects.
Women undergoing mother-daughter plastic surgery may find that they can offer one another all the support needed after a cosmetic procedure. You can each offer the other validation and understanding, as well as the experience of sharing your hopes for the future openly and honestly.
Dr. Leslie H. Stevens is a board certified plastic surgeon in Beverly Hills and co-director of the renowned Lasky Clinic, known for its extensive celebrity clientele.  Dr. Stevens specializes in facelifts, eye lifts, breast augmentation, tummy tucks, labiaplasty, liposuction and body contouring.  His practice is located in the Los Angeles area at the Lasky Clinic in Beverly Hills.