Is Botox Just for the Middle Aged?
By Leslie Howard Stevens – Follow me on Google+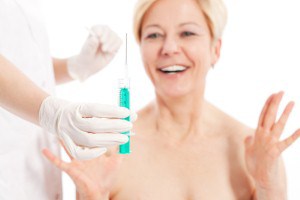 If you've done any research into Botox injections, you've probably come to the conclusion that the injectable cosmetic is meant to erase visible wrinkles on the face, especially around the mouth and eyes. It may come as a surprise, then, to learn that many people who elect to receive Botox are still in young adulthood. According to CBS Chicago, these patients aren't looking to erase wrinkles – they're more interested in stopping these signs of aging before they start.
Natalie Garcia is only 24 years old, but has been getting Botox since she was 22. She explained to the news source why she chooses to undergo the treatments. "I like having nice skin. It makes me feel confident, so why not? When my skin actually starts aging, during my later years, I think it'll beneficial."
It's not just young women who are looking to prevent facial lines – some young males are also seeking out the procedure. For instance, 27-year-old Blake Troiani told CBS that he was worried about lines in his forehead. He said they feel they make people look older and "more tired," so he decided to get Botox to help prevent their formation. He adds that the procedures worked for him – his loved ones commented on the quality of his skin, and even told him that he looked "rejuvenated."
Doctors agree that injectable cosmetics like Botox may indeed be able to prevent or reduce the appearance of lines, even before they've formed. A Chicago-based plastic surgeon explained to CBS that Botox blocks certain muscles responsible for causing wrinkles from moving. Younger adults will likely need fewer injections, and may even be able to go up to a year without getting regular injections, unlike older patients who must visit every few weeks.
If you're still wondering about the popularity of Botox, the numbers don't lie. According to the American Society for Aesthetic Plastic Surgery (ASAPS), Botox topped the rankings of the most popular nonsurgical cosmetic procedures in 2011, with a total of 2,619,739 surgeries performed by ASAPS-certified doctors. If you look at the number of Botox injections given by physicians, nurses and physician assistants, that figure skyrockets to 4,030,318.
Individuals of any age who are interested in Botox injections should speak with a board-certified plastic surgeon, who can help them determine what portions of their face should be targeted.
View this blog post originally available on The American Society for Aesthetic Plastic Surgery.