Can Botox Boost Breasts?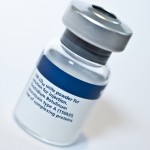 While the wonders of Botox have been heralded as a non-invasive solution for temporarily erasing fine lines and wrinkles without the recovery time and cost of a traditional facelift, some plastic surgeons believe the injectable can be used to give breasts a boost.  For just a couple of thousand dollars, advocates suggest, smaller breasted women with an A or B cup can achieve a temporary lift in their bust line for about four months.  The Botox breast lift, which has yet to be approved by the Food and Drug Administration, rightly raises eyebrows (but not breasts), and leads to skepticism among experts in the field.
This new spin on a traditional procedure requires injecting Botox into the pectoralis minor chest muscle.  Since Botox blocks nerve impulses to the injected muscles, the rhomboid muscles of the back compensate by pulling the shoulders back, which raises the breasts.  In effect, the technique helps to improves posture.  While a traditional breast lift entails removing excess skin and reshaping the breasts, the Botox breast lift leaves no visible scars or incisions.  Still, the lack of an invasive technique does not necessarily mean it is more effective.  In fact, some argue, it is difficult to isolate the pectoralis minor chest muscle for injection since it is covered by the pectoralis major chest muscle, making it hard to achieve the desired outcomes.  Moreover, all of the muscles of the chest and back are integral to the lift of the bust line, so injecting only the pectoralis minor may have minimal impact.
In addition, a Botox breast lift requires injecting through a good amount of fatty tissue to reach a muscle, which is inherently more difficult than injecting the thin tissue around the eyes to minimize lines.  For this reason, many plastic surgeons argue the results are not only short-lived but unimpressive.  They recommend individuals seeking an easy lift either exercise or simply follow what mothers have been saying for years: stand up straight.