Say Goodbye to Under Eye Wrinkles!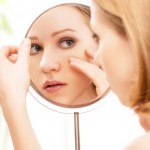 The eyes are often one of the first areas of the face to show the telltale signs of aging. The good news is there are a number of treatment options that can minimize eye wrinkles for a younger, more refreshed appearance. Check out our recommendations to help you say goodbye to under eye wrinkles.
Injectable Treatments
Injectable treatments are a relatively quick, painless way to minimize the appearance of under eye wrinkles. Dynamic wrinkles, those that appear when the muscles of the face form certain facial expressions, are best addressed by muscle-relaxing solutions like Botox and Dysport. Static wrinkles, those that are present all the time, may be treated with dermal fillers, such as Juvederm and Restylane.
Injectable treatments take just a few minutes to complete. Results can be seen right away (or within a few days with Botox) and continue to improve in the days following the procedure. These treatments only provide temporary relief from facial lines, and will need to be repeated periodically to maintain results.
Skin Rejuvenation Procedures
Skin rejuvenation treatments are another effective way to minimize fine lines on the face. These treatments also address uneven pigmentation, shallow scarring, sun damage and age spots. One of the most effective skin rejuvenation treatments available today is laser skin resurfacing.
Laser resurfacing uses a high energy laser beam to remove outer layers of skin, leaving a softer, smoother complexion underneath. The procedure can be customized to the unique needs of the patient, working deeper on skin with deeper facial creases and more distinct imperfections. The laser also stimulates collagen production, ensuring beautiful, long-lasting results.
Surgical Procedures
Patients with under eye wrinkles that don't respond to other forms of treatment might be good candidates for surgical procedures. Eyelid surgery, also known as blepharoplasty, addresses under eye wrinkles, bags and sagging skin. The procedure may be performed on an outpatient basis and most patients are back to regular activities within a few days.
For patients wanting more dramatic results, a midface lift or full facelift can also be performed. In addition to under eye wrinkles, these procedures firm and smooth skin on the face, restoring facial contours and eliminating signs of aging. Facelift procedures require more recovery time, but the results are more dramatic and long-lasting.
You don't have to live with under eye wrinkles that make you look older than you feel. To learn more about your treatment options, contact our staff at the Lasky Clinic at 310-556-1003 to schedule your personal consultation with Dr. Stevens today.