Male Cosmetic Procedures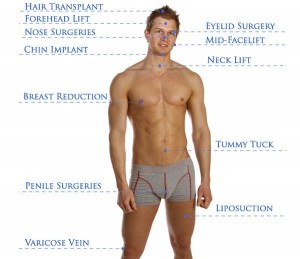 Women aren't the only ones going under the knife for the sake of a better-looking body or to reverse the signs of aging to compete in a youthful workforce. In fact, male cosmetic procedures are rising at a faster rate than their female counterparts. More and more men are beginning to understand the benefits of cosmetic procedures not to mention the health benefits of shrinking their waist lines.
According to an article on TheDailyFinance.com, in 2010 men underwent 1.1 million cosmetic procedures accounting for almost 10% of all cosmetic procedures. So what are the top procedures for men considering plastic surgery?
Dr. Stevens lists the most popular cosmetic procedures for men and how they work.
Facelifts – Also known as a rhytidectomy, a facelift can create a more youthful look by correcting sagging skin and muscles for a firmer and more vibrant appearance.
Liposuction – When fat cells won't shrink after rigorous dieting and exercising, liposuction provides the ability to slim the thighs and hips, flatten abdominals and reduce a double chin.
Male Breast Reduction – Or gynecomastia surgery. Getting rid of the dreaded "man boob" can include liposuction, and/ or an excision to remove excess breast tissue or skin or both depending on the patient's case.
Nose Jobs – Rhinoplasty has been a great option for male patients impaired with breathing abnormalities or simply looking to enhance their appearance. Nose surgery can change the size, tip, dips, nostril size, and overall asymmetry of the nose.
Learn more about cosmetic procedures just for men and speak with Dr. Stevens about your options.
Dr. Leslie H. Stevens is a board-certified plastic surgeon in Beverly Hills and co-director of the renowned Lasky Clinic, known for its extensive celebrity clientele.  Dr. Stevens specializes in facelifts, eye lifts, breast augmentation, tummy tucks, labiaplasty, liposuction, and body contouring.  His practice is located in the Los Angeles area at the Lasky Clinic in Beverly Hills.