What is the Gummy Bear Augmentation and Is It for Me?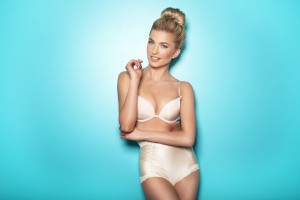 If you have been considering breast augmentation, it is likely you have heard the term "gummy bear" implants. While the name might bring to mind colorful jelly candies, for the purpose of breast enhancement these implants take on a much more serious role. While gummy bear augmentation may not be right for every patient, those who do choose these innovative implants may experience a host of advantages.
What is a Gummy Bear Implant?
The gummy bear implant, also known as the form stable or cohesive gel implant, is a new type of silicone implant that offers greater firmness than other current silicone options.. This implant will not lose its form, even if it is sliced in two. The consistency inside is similar to the jelly of a gummy bear candy, which is how the implant got its nickname.
Another difference with the gummy bear implant is the shape. Unlike round implants commonly used for augmentation, this implant features a teardrop shape that in some individuals more closely mimics the natural shape of the breast. The implants come in a wide range of sizes and profiles, ensuring an appropriate fit for nearly every patient.
Benefits of the Gummy Bear Implant
There are a number of possible advantages with the gummy bear implant:
• Teardrop shape may give a more natural look and feel to the breast
• Lower risk of visible rippling and capsular contracture than other types of implants
• The implant will continue to hold its shape even in the event of a rupture
• No worry over silicone leaking from the implant if a rupture occurs
• Implants are less likely to lose their shape over time like saline and other silicone options
Drawbacks of the Gummy Bear Implant
While there are a number of benefits associated with the gummy bear implant, there are also a few possible drawbacks to consider:
• Because the implant is firmer, slightly larger incisions may be needed to fit the implant
• Some patients do not like the firmer feel of the implant
• The teardrop shape may result in less fullness to the upper part of the breast
• If the implant rotates inside the breast, it can result in a visible distortion of the breast shape
Making the Choice
Choosing the right implant is a highly personal decision that should be made between a woman and her plastic surgeon. Dr. Leslie Stevens have ample experience with breast augmentation procedures and will help you find the implant that meets your needs and desired outcome best. To learn more about our breast augmentation procedures, contact Dr. Leslie Steven's staff at the Lasky Clinic at 310-556-1003.