Under-Eye Circles and Injectable Fillers: One Woman's Story
By Leslie Howard Stevens – Follow me on Google+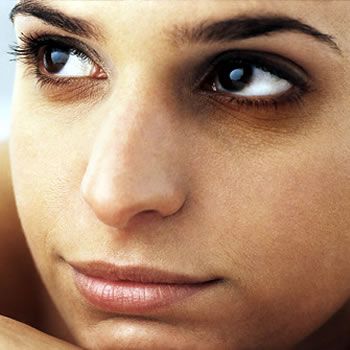 Marie Claire editor, 35-year-old Lea Goldman, was so distressed by her under-eye circles that she decided to seek a solution. In the October 2012 issue of Marie Claire she tells her story. Goldman said the circles under her eyes looked like man-holes or deep purple half-moons. She gets a good night's sleep and is well-rested for a busy working mom but, nonetheless, people told her she looked pale, exhausted and frazzled. She believed her tired-looking appearance made people think she didn't have her act together.
She tried every concealer on the market, from cheap drugstore brands to French products sold in exclusive department stores. She started wearing glasses all the time (though she doesn't need them) because the frames covered her under-eye shadows. Although she swore she would never get a facelift or other cosmetic procedures, she made an appointment with an experienced board-certified physician, well known among the fashion set.
Goldman had little fat or collagen below her eyes, so the purple facial muscle was visible beneath the skin. Her doctor said that genes are not solely responsible: alcohol, smoking, quick weight loss, lack of sleep and dehydration are also factors. But the biggest culprit is aging, leading to thinning and sagging.
The doctor said Goldman was a perfect candidate for Restylane, which for $1,800, would minimize the circles for as long as a year. With fear and hesitation, Goldman assented. The under eye area is ultra-sensitive to pain and Goldman reported to Marie Claire, "Those ten or so pricks of Restylane stung like 100 rubber bands snaps." Further, she didn't see any difference after the procedure. She was sent home with ice packs and the soothing cream made with horse chestnut extract. (Arnica tablets, available in most health food stores, also reduce the swelling).
Once the swelling subsided, Goldman felt that she looked exactly the same, only brighter and healthier. The shadows aren't totally gone, but much fainter and virtually invisible with concealer.
Hyaluronic acid fillers like Restylane, Juvederm and Prevelle Silk are only one way to deal with dark under-eye circles. According to the American Society for Aesthetic Plastic Surgery, there are other treatments that can provide improvement. Lower eyelid surgery (blepharoplasty) can correct this problem if the darkened appearance is due to eyelid "bags" that cause shadowing, or due to fine wrinkling and bunching of the skin in the area directly below the lower eyelids, called the "tear trough."
If surgery does not completely solve the problem, a chemical peel or bleaching solution to the area may help. If you want to address your own under-eye circles, be sure to make sure your injector is qualified and is working out of an accredited facility. Being in a board-certified physician's office or med-spa is usually a good start.
View this blog post originally available on The American Society for Aesthetic Plastic Surgery.