New silicone gel breast implant receives FDA approval
By Leslie Howard Stevens – Follow me on Google+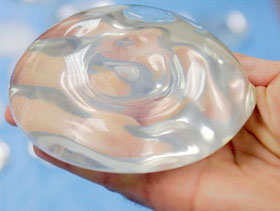 Another new silicone-gel filled breast implant has received the U.S. Food and Drug Administration stamp of approval. As of February 20, 2013, Natrelle 410 Highly Cohesive Anatomically Shaped Silicone-Gel Filled Implants, manufactured by Allergan, Inc., are approved for breast augmentation in women 22 and older and for breast reconstruction in women of any age.
According to the manufacturer, the silicone gel in the Natrelle 410 implant contains more cross-linking than Allergan's previously approved Natrelle models, which results in a silicone gel that's firmer.
Natrelle 410 approval was based on seven years of data from 941 women. Most of the complications and outcomes were similar to those found in previous breast implant studies, including tightening of the area around the implant (capsular contracture), reoperation, implant removal, an uneven appearance (asymmetry), and infection.
Silicone-gel implants have had a rocky history. For more than 20 years, the FDA wrestled with their safety. In 1992 the agency restricted access to gel implants pending further research and evaluation.  In 2006, the FDA allowed silicone gel implants back on the market after extensive research ruled out most concerns about disease. However, with Natrelle 410, as with all other approved silicone gel implants, the FDA requires manufacturers to perform rigorous post-approval studies to assess long-term safety, effectiveness, outcomes, and the risks of rare disease.
For five years, Allergan will continue to follow about 3,500 women who received the Natrelle 410 implants. They will also conduct a 10-year study of more than 2,000 women receiving these implants to collect information on long-term local complications (e.g., capsular contracture, reoperation, removal of implant, implant rupture) and less common adverse outcomes. Finally, the manufacturer will analyze the Natrelle 410 implants that are removed from patients and returned.
Selection of silicone-gel implants is proliferating; in 2012, Sientra received approval for their new naturally-shaped implants as well as their standard round variety. With this recent approval, there are now four FDA-approved silicone gel-filled breast implant products available in the U.S. manufactured by three companies: Allergan, Mentor, and Sientra; only Allergan and Sientra have received approval for a highly cohesive silicone-gel filled implant.
According to the American Society for Aesthetic Plastic Surgery (ASAPS), in 2011, 316,848 women in the United States underwent breast augmentation. Many women choose silicone gel implants because they look and feel more natural than saline breast implants.
View this blog post originally available on The American Society for Aesthetic Plastic Surgery.