Fear Factor: 5 Reasons Plastic Surgery Isn't So Scary After All
By Corrie Shenigo provided by the American Society for Aesthetic Plastic Surgery.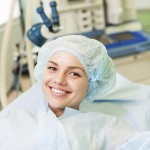 Coffee or tea? Heels or flats? To be or not to be? Life's decisions are a complicated lot. Thankfully, the decision to have cosmetic surgery has become less complicated with the many advances in technique, accessibility and safety of surgical and nonsurgical cosmetic procedures. Of course, "advances" don't always allay fears. So today — in a single dose of "fear be gone" — we're going to quash 5 big fears that might be stopping you from feeling fully empowered to make the choice to have aesthetic surgery, 'cause, gosh darn it, people want to look good!
The monster under the bed:
Roosevelt had a point when he said, "The only thing we have to fear is fear itself." But he wasn't staring down the barrel of reality television and other relentless media sources, showcasing the horror stories of surgical procedures gone wrong and the soul-crushing judgment of actresses who've deigned to age "naturally"(those gals can't seem to win – *sigh.) Unfounded fear is a big reason why some people might steer clear of a cosmetic procedure, even if they want it really, really bad. Thankfully, that same accessibility to information that brings you terrifying tabloids and the very worst surgical horror stories also provides a great source for allaying fears: legitimate information. While a board-certified plastic surgeon is always your best source for educational information before, during and after a procedure, there are plenty of reliable online sources that offer up education, information and reviews. Sites like this one, the American Society for Aesthetic Plastic Surgery, and New Beauty are examples of sites that offer tremendous resources when making the decision to have plastic surgery.
Hitting where it hurts:
Another sore spot in choosing to have plastic surgery is preferably kept neatly tucked into your purse or back pocket — yes, it's money. Plastic surgery isn't cheap (and if the price is too good to be true, trust us, it is,) but it has become increasingly more affordable for most budgets, and most reputable plastic surgeons offer financing options to help make the decision more palatable.
Looking "done":
Today's best plastic surgeons are touted for their sense of aesthetics and their ability to provide natural and realistic results. So while an unnatural appearance is a viable fear in making the decision to have a cosmetic procedure (and is one that you should discuss with your doctor), your board-certified plastic surgeon is aiming to make you look your best through open dialogue and mutually agreed-upon expectations. Aesthetic plastic surgery is meant to enhance your natural beauty – not to reshape you into someone you don't recognize.
Pressed for time?
Most Americans already feel the pressure of work and family versus the ticking time bomb that is your daily schedule, so the idea of taking a day or a week or two off for recuperation can strike terror into the hearts of the even the most organized adult. Your initial conversation with your plastic surgeon should include limits to your available recovery time and he or she will steer you towards procedures that work for you. Since many of today's top procedures don't require an overnight hospital stay or even a overly-long healing process, you may be surprised to find out just how time-effective treatments actually are.
Who's the boss?
The opinions of your husband, wife, boyfriend, or girlfriend are all reasons why you might be avoiding a cosmetic procedure that you want. The question is should you let that stop you? Support from your significant other is a doozy when it comes to making big decisions, so why not include them in the process? Bringing your partner with you during your consultation, gives them the opportunity to not only meet your doctor, but also ask questions, visualize the results and learn more about the procedure, which will ultimately help allay their fears as well as your own.
Ultimately, the decision is in your hands – but you should do your homework, gather as much information as possible, and speak with a board-certified plastic surgeon prior to committing to any aesthetic procedure to ensure that you're making the most informed decision possible.