Breast Implants and Breast Cancer – The Truth
By Leslie Howard Stevens – Follow me on Google+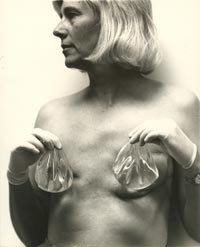 With the rising increase of women undergoing breast augmentation surgery, many questions may arise for patients who are concerned about breast cancer detection, reconstruction, and risks. Patients, whether pre- or post-surgery should know and understand all of the factors that can affect their health when considering an elective procedure such as breast augmentation.
Implants and Early Detection
Contrary to popular belief, breast implants do not get in the way of traditional breast cancer screening and early detection. Patients are still encouraged to conduct regular self-exams and report any changes to their doctor immediately. According to the MD Anderson Cancer Society, noticing breast changes can sometimes be easier for women with implants because the implants push the natural breast tissue to the outside of the breast, making a lump easier to feel.
Women with implants don't need to fear their implants rupturing during a traditional mammography exam as this is typically rare. However, if cancer is detected, patients may have to have the implant removed as radiation treatments can lead to scarring, pain, shape changes, and possibly infection.
Breast Augmentation After Breast Cancer
Breast reconstruction is an important surgery for many women who undergo a mastectomy for breast cancer treatment. Patients can elect to have immediate or delayed reconstruction post-radiation treatments or mastectomy procedures after discussing with their doctor and plastic surgeon about the best options. See also Dr. Stevens' post on choosing the right size implant after a mastectomy.
Implant & Cancer Link
Last year the Food and Drug Administration began looking into the possible link between breast implants and breast cancer. After learning about 60 cases of anaplastic large cell lymphoma (ALCL) out of 5 to 10 million women with breast implants, a disease that normally attacks the lymph nodes and the skin and has been reported in the scar tissue which grows around an implant, the FDA is working with the American Society of Plastic Surgeons to study patients with cancer and conduct more definitive research. The risk of ALCL is extremely rare and the recommended treatment is to remove the capsule around the implant.
Additional resources
Breast Implants: Do They Affect Mammograms?
Breast Reconstruction After Mastectomy
Learn more about your breast augmentation options by scheduling a private consultation with Dr. Stevens.
Dr. Leslie H. Stevens is a board-certified plastic surgeon in Beverly Hills and co-director of the renowned Lasky Clinic, known for its extensive celebrity clientele.  Dr. Stevens specializes in facelifts, eye lifts, breast augmentation, tummy tucks, labiaplasty, liposuction, and body contouring.  His practice is located in the Los Angeles area at the Lasky Clinic in Beverly Hills.