Botox Without the Pain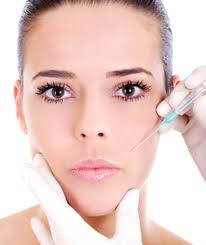 Imagine reducing wrinkles and smoothing fine lines without needles. That's the type of claim a new gel on the market that's supposed to work like Botox is promising. According to an article on WebMD "A topical gel containing botulinum toxin type A — the same toxin as that used in injected Botox — helped reduce moderate to severe crow's feet wrinkling around the eyes, according to two preliminary studies."
So how is this pain-free Botox like-solution supposed to work? An applicator is used to apply the gel to a patients' trouble areas and sits on the skin for 30 minutes. It is then wiped off and the patient is free to walk out. One, two, done.
Currently still under testing before it can get FDA approval, the new gel may be a miracle solution for patients too terrified of needles to take the plunge of having Botox injections. But don't be fooled by the topical application process. The gel is not a creme and won't be sold in jars at the beauty counter. Patients will still need to see a qualified doctor for application. While the gel is said to be quite effective for reducing wrinkles it will not be as effective as typical Botox injections which can targert specific muscles with precision.
Find out more about traditional Botox injections and other non-surgical procedures Dr. Steven's offers at the Lasky Clinic.